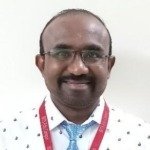 Greetings! It is my pleasure to introduce you to BITS Institute of Physiotherapy through our website. The purpose of this website is to give you glimpses of the many exciting learning experiences happening here. Navigating through menu of the website you may find interesting and helpful information. The website is evolving and will have more interesting information.
Our vision of education extends far beyond the classroom. Learning here takes place in many shapes and forms. We work as a team of students, teachers, parents, and community as we encourage our students to believe in themselves, achieve knowledge, and gain required skills in order to become successful as they move through their academic years. We encourage our students to involve themselves in the broad co-curricular program.
We are very proud that our students have secured many ranks and Gold medal from our first batch from any Gujarat University affiliated colleges. We are excited about this year as our students continue to grow and our programs improve each year. We are confident that this year will be yet another best year!
We are developing an infrastructure to enhance research environment, and we aspire to create facilities of surpassing excellence and offer research training in advanced physical therapy. We aim to give every student the very best possible education in order to prepare them for life beyond college.
We strive to enhance quality of Teaching-learning and Research; and collaborate with other stakeholders of Higher Education for Quality evaluation, Promotion and Sustenance.
Of course, this website cannot take the place of visiting our campus; we warmly welcome you to visit our campus by contacting us, and discover yourself what makes BITS edu campus so special.
Hoping to see you at our campus!
Do join us on this journey towards excellence…