Ratri before Navratri – 2018
Ratri before Navratri – 2016
"Ratri before Navratri" celebration at BITS Edu Campus
Navratri festival is a portrait of music, color, dance and devotion. Every year BITS Edu Campus celebrates 'Ratri before Navratri' with great enthusiasm. This year also, with vividly colored flowers and light, 'Ratri before Navratri' was organized on 30th October 2016.
Eminent personalities witnessed the event and graced the function with their valuable presence. Shri. E. Radhakrishnan, (IPS), Police Commissioner, Vadodara; Shri. Hitesh Joy, DCP, Vadodara, Shri. Dharambhai Patel Pramukh Shri Kelvanidham, Ahmedabad, and Shri. Hitesh Modi, Chief Engineer, R&B, Gujarat are few of them. Their gracious presence uplifted the glory of the event to a huge success.
Ratri before Navratri – 2015
Ganesh Utsav – 2018
Ganesh Utsav – 2017
With these words of prayer, the celebration of "Ganapati Utsav -16" is started in our BITS Edu Campus. BITS Edu Campus is celebrating "Ganesh Utsav" since the year 2010 and it was our 7th consecutive year of festivity. Like every year this year also special theme was designed for 'Ganesh Utsav-2016' stage setup, which can appeal the mass and bring changes in society. Theme for this year was "ચંદ્ર નો અહંકાર: I Am Not The Perfect One But I Am The Limited Edition" with live moving decoration. This theme was specially designed for school children with blend of Indian mythological values and modern era child behavior issues. Various competitions are held during these 10 days of celebration from 05.09.16 to 15.09.16. Students and staff members took enthusiastic part and showcased their extra ordinary talents.
Van Mahotsav – 2018 
BITS Edu Campus, #NSS Unit, has taken the initiative for a noble cause to save our environment.
We're privileged to have Mr Nitinbhai Patel at Babaria Institute in 'Van Mahotsav' on 30th July,2018  to support us.
Here's the first selfie of this noble cause with our honourable guests.
Red FM – Tashanbaaz on 05.09.2018
International Yoga Day Celebration
4th International Yoga Day celebration 2018 at Babaria Institute of Technology.
We have organised the Yoga session for practicing the same as per the protocol from Ministry of AYUSH. All Students and faculty members have participated with zeal and enthusiasm.
Venue: BITS Edu Campus, Varnama, Vadodara.
Aahvan – 2018
KHELdili – 2018
"Khoj- A State Level Science Exhibition & Competition" for Students of Standard 9th-12th at BITS Edu Campus on 11th February, 2017
PROJECT EXHIBITION – EXHIBITS 2017 ORGANIZED  AT BITS EDU CAMPUS, VADODARA ON 8TH APRIL 2017
In Association With:


In accordance with the directives of GTU, Babaria Institute of Technology – BITS Edu Campus organized Project Fair of all the Final Year Students – ExhiBITS 2017 on 8th April 2017 under the banner of CSI, IETE and GESIA.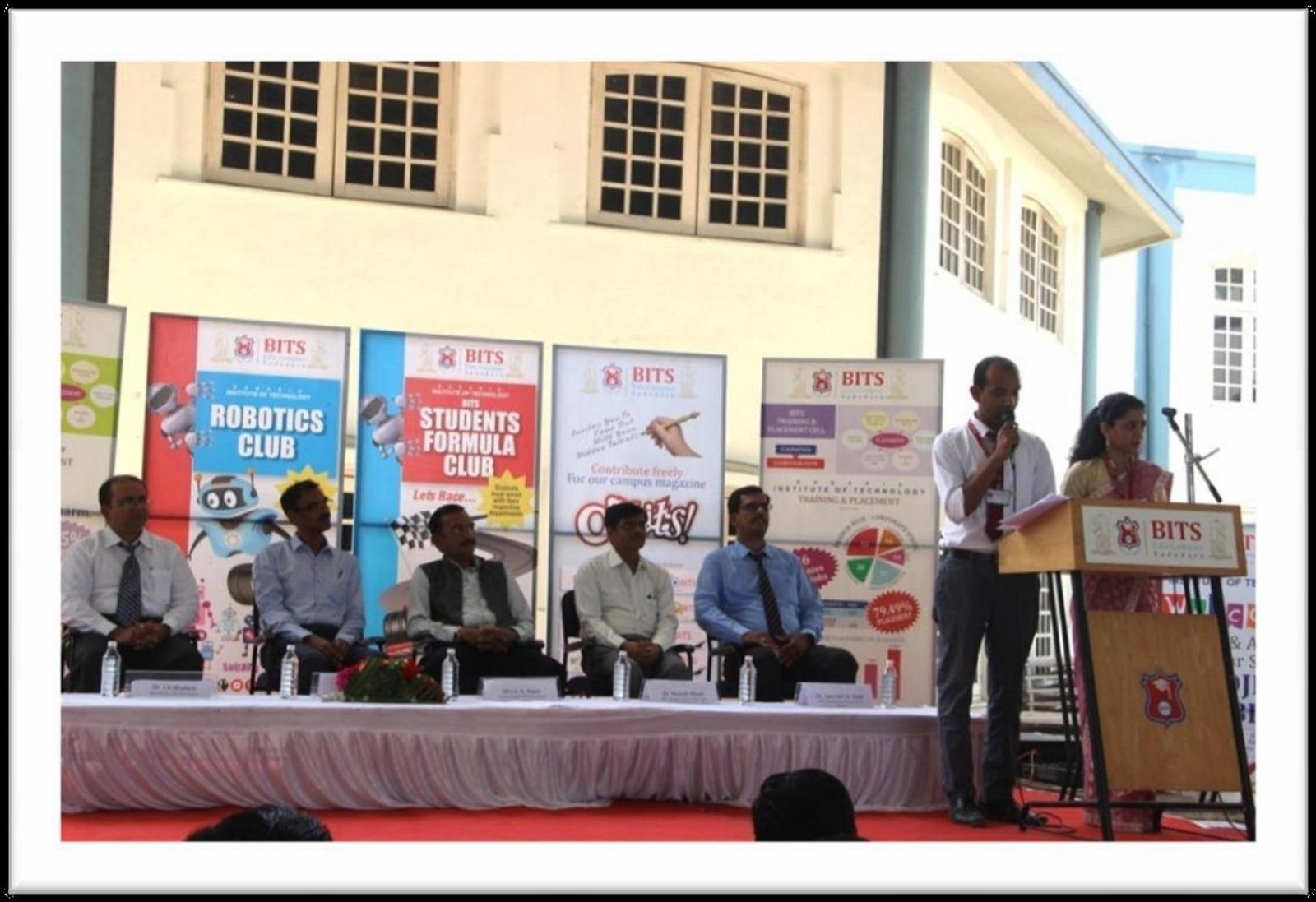 Inauguration ceremony graced by Mr. Pravin Jain (Chairman – CSI Vadodara Chapter) and Dr. Nishith Bhatt ( GM, Education Division, Design Tech, Ahmedabad)
Glimpses of Project Exhibition
Valedictory and Prize Distribution ceremony graced by Mr. Tushar Kher (Chairman, IETE Vadodara Center) and Mr. Darshan Shukla (Senior Deputy General Manager at Larsen and Toubro Limited)
100 ACTIVITY POINTS -FEB 2017
BITS Edu Campus had organized Sports week "KHELdili-2017" for Engineering, Pharmacy & Physiotherapy students from 06/02/2017 to 11/02/2017. In total fourteen games were planned out of which 7 were outdoor games, 4 were indoor games and 3 were computer games.
Radio Mirchi Talent Hunt 2015
Uttarayan 2016
Industry Academia Meet Chetan Bhagat
"World Physical Therapy Day" was observed by BITS Institute Of Physiotherapy, Varnama, Vadodara on 8th September, 2015. On the occasion of "World Physiotherapy Day", a Free Blood Donation Camp was organized by BITS Institute of Physiotherapy in association with Shri Jalaram Blood Bank. The Venue of the camp was Old canteen (Electrotherapy Lab), below the Auditorium, BITS Edu Campus, Varnama, Vadodara. Banners, posters and flyers were prepared by Dr. Upasana Kaptan and Dr. Bhumika Ruparel to create awareness about physiotherapy.
The Camp started at 10:00 AM and saw its completion at 2:00 PM. Dr. Kunjal Parekh with seven second year Physiotherapy students (Dvisha ,Shivangi, Shivani, Khusboo, Shilpin, Pranay & Rinkal) conducted the camp where 32 subjects donated blood. A special thanks was offered to Nimisha ben for the help and support received during the event.
Simultaneously, along with Blood Donation Camp, Body Composition Analysis, Blood Pressure check up & Diet and Health councelling were arranged in Exercise therapeutic Gym for Faculty and Students.This programme started at 10:00am and ended at 1:00pm.
Dr. Mehul Contractor and Dr. Camy Bhagat, Incharge of Body Composition Analysis conducted the event along with seven second year students (Riddhi,Isha,Krupali,Dharti,Priyanka,Jaya,Kaushal).
Dr. Nimmi Kuruvilla and Dr. Bhumika Ruparel were Incharge of Blood Pressure check up. Dr. Ajita Mishra and Dr.Paras Bhura were Incharge of Diet and Health councelling. There were total 175 participants incuding both faculty members and students.
At 11:00 am Poster Presentation competition was conducted by Dr. Rushikesh Joshi & Dr. Archana Ninama in Anatomy Lab and total 19 students participated enthusiastically.
Judging was done by Dr. Sarfraznawaz Shah, Dr. Camy Bhagat & Dr. Kunjal Parekh for (Team A) and Dr. Moushumi Debnath, Dr. Ajita Mishra & Dr. Paras Bhura for (Team B).
Seminar on "Ergonomics for All Professionals and Students" was successfully conducted by Dr. Madhuri Gaur & Dr. Nimmi Kuruvilla from 2:00pm to 3:30pm with total of 69 participants. Venue for the seminar was smart class (Room no 43).
At 2:45 pm, Dr.Moushumi Debnath, Incharge of Quiz competition did anchoring & scoring was done by Dr. Paras Bhura and Charmi (2nd year BPT student). 12 students qualified for the final quiz competition and they were divided into 3 groups (Group A Health, Group B Fitness, Group C Wellness). The competition ended at 3:45pm with Group C as the winner.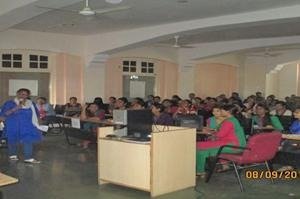 Funny Add competition started at 3:45pm in Anatomy class room. Incharge of funny add competition was Dr. Ajita Misra. There were 3 Groups of students, each group had 8 students. Judging for Funny Add competition was done by Dr. Sarfraznawaz Shah, Dr.Mehul Contractor, Dr. Rushikesh Joshi, Dr.Madhuri Gaur & Dr. Nimmi Kuruvilla.
Auspicious "World Physiotherapy Day" ended with Prize Distribution ceremony, which started at 4:30pm. Dr. Mehul Contractor anchored the Prize Distribution programme.
At the end, Vice Principal Dr. Sarfraznawaz Shah thanked all participants and faculty members for making "World Physiotherapy Day" program a grand success.