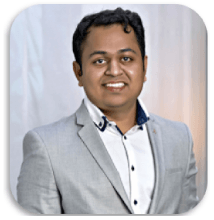 Shri Dhruv J Patel
CMD, BITs Edu Campus
I am pleased to share with you the success story of our campus. The journey started in the year 2004 with a single institute of engineering and today the campus is known in the academic arena for the growth it made during last decade.
"Global Development with Indian Culture" is the key feather of BITS Edu Campus. Over a decade journey, BITS edu campus has successfully implemented best practices in the academic arena and introduced many innovations in professional education.
We aspire to be a leading professional campus of the state and choicest destination for the students aspiring professional education. We would like to move forward with a blend professional education with latest advances in research and introducing new relevant departments/institute to keep pace with modern education.
A carefully designed blend, which includes rigorous learning from world class academicians, regular exposure to global thought leaders, entrepreneurs and highly experienced industry leaders, community service, experiential learning, numerous student driven initiatives and peer learning, makes the BITS Edu Campus experience a transformational for our students.
I appeal all our stake holders to continuously strive for excellence which help us in realizing our dream of a campus of world class par excellence.
We look forward to your visit to Campus and to be a partner in the development journey with your inputs.